5 Gift Ideas for the Car: Under $20
Phone Mount For The Car
WizGear has well over 19,000 reviews on Amazon with a 4-star average rating which shows how good the product is for the price point. It has new technology that allows for the phone or mini tablet to quickly and swiftly snap on and off of the mount with ease. It is sturdy, but also swivels and mounts directly to any of the air vents in your car or truck.
This is a perfect small gift that can be for anyone you know who drives without breaking the bank while keeping it practical.
Blind Spot Mirrors (Set of 2 or 4)
Not too much more to say about these than what they are. They are blind spot mirrors that allow for the driver to see in their blind spot without turning all the way around in their seat while driving. A cost effective gift that is not only practical, but can absolutely stop someone from getting into an accident. It comes in a two pack so there is one for each side mirror.
Moso Natural Air Purifying Bag – Odor Eliminator for Cars
The reviews on this awesome gift idea are fantastic! They consist of a lot of people who left some sort of food that can go bad and smell in their car for too long and nothing worked but this to get the smell out. With over 3,500 positive reviews on Amazon this gift idea is sure to get the results you need.
Here is a quick sample courtesy or Timothy Parker
"This is my first ever review. I was NOT given this for free or discount or offered anything at all for this review. I had a gallon of milk spill in my car and living in a very hot climate, well you can imagine the stench. I have tried everything but nothing worked. My kids refused to drive with me. So then I bought this Moso purifying bag and the smell has disappeared overnight. Can't explain it. Not sure how it works. Buy it...trust me...."
Digital Tire Pressure Gauge

Everyone who owns a car should have a tire pressure gauge in their vehicle right? Why not make it a nice digital one that has multiple other uses! For the small price of just $16 on Amazon this digital tire gauge is also a:
Car Emergency Window Breaker/Hammer
Seat Belt Cutter
Small LED Flashlight
Need I say more?
Drop Stop – The Seat Gap Filler (Set of Two)

Okay, I am sure you are thinking, "what is this?" but hear me out. As stated in their ad, the Drop Stop is the only solution with 100% GAP coverage! Seriously though, this interesting gift idea actually is beneficial and can also stop an accident from happening. We have all dropped our cell phones between the seat and the center console and then vigorously attempted to grab them while we are also attempting to drive safely…..
Here is a quick and cost-effective solution to help prevent this situation. It comes in a 2 pack for both the driver and passenger side as well.
5 Gift Ideas for the Car Under $100
Car Seat Protector (2 Pack)

Nothing worse than someone or something destroying the seats in your car, especially if it is brand new. Dogs and kids are the biggest culprits when it comes to spilling or "accidentally" tearing your seats up with their nails and/or teeth.
Here is a quick and simple solution that protects both leather and automotive upholstery while maintaining a bit of style still.
Universal fit
Water Proof
Non-Slip Backing
Top Gear Roadside Assistance Kit (66 Piece)

Not much to say about this gift idea other than you never know when you may need it. It comes with:
Hand Charged LED Flashlight (Does not require batteries)
Reflective Safety Vest
Battery Jumper Cables
34 Piece First Aid Kit
And Much More!
Every vehicle should have one of these ready to go just in case the time comes when they will need it. It is a great gift that shows you care.
Jump Starter Kit

Hopefully this will not be needed, but when it is a jump starter kit sure does come in handy. Remember that one time the battery died and you got stranded for over an hour waiting for the tow truck or AAA to come and jump start your car and then try to sell you a new battery for way too much money? I do…
Anyhow, this is a gift that can really make a difference and be a huge time saver. It is also nice to be able to help a friend or coworker jump their car quickly and I have seen it in action. Plus it is small enough to fit in your glove box!
Anker Roav Dash Cam

You never know when a dash cam will come in handy, but it is better to have one these days just in case. The main reason for a dash cam is to record from your point of view while driving so you can have proof of what happened in an accident.
This is crucial for insurance claims and even law suits that begin after bad accidents.
Clear and Precise Recordings
Watch Videos Instantly
Motion-Activated
Can Withstand Extreme Temperatures
Auto Care Crate – From Man Crates

Now this is fun! The Auto Care Crate actually comes in a real wooden crate with a laser etched crowbar. Imagine seeing that under a Christmas tree? Awesome…
This crate comes with everything you need to keep your beloved car or truck clean and looking great. Use what the pros use on your vehicle this holiday season with the Auto Care Crate.
5 Gift Ideas for the Car – Over $100
Ingersoll Rand Super-Duty Air Impact Wrench
Anyone who works on cars even a little bit will love the gift of a Super-Duty Air Impact Wrench this holiday season. This wrench is extremely reliable, adjustable and ergonomic while at the same time pushing out consistently great results.
Gunner Driver Loafers by Wolf & Shepherd

I was a fan of this style of shoe before I knew about the Gunner Driver Shoes, so I may be a bit biased here. These shoes look incredibly comfortable and allows the driver to feel like they are not wearing shoes at all. With water resistant suede leather, these shoes can be worn in any weather and give you a stylish look as you get out of your car.
Kobalt Standard Mechanics Tool Set (200 Piece)

The Kobalt Standard Mechanics Tool Set is a great gift idea for the car lover in your life that spends a lot of time working on the car. This "everything you need" tool set comes with 200 pieces and has a hard case that allows for easy travel and organization.


MGP Caliper Covers
$200 - $500 at MGP Caliper Covers
MGP Caliper Covers are a great gift for not only car lovers, but anyone who owns a car in your life. They are an auto accessory that truly makes your ride stand out and separate itself from the rest. The options for style are nearly limitless with all the customization available.
Since they are made with aerospace grade aluminum they will not rust and they actually dissipate brake heat by 10-15 degrees. The patented fastening system allows for easy installation and a secure fitment. Every set of caliper covers is designed specifically for a vehicle based on their year, make, model and sub-model to ensure precise and proper fitment.
Any color, Any Engraving
Full Customization
Reduce Brake Dust
Dissipate Brake Heat
Simple and Secure Installation
3 Year Warranty
Race Watch By MOMO

As a fan of watches, I would love if someone hooked me up with this watch as a gift this holiday season. It has a clean look and smooth design that almost reminds you of a racetrack. The MOMO Design Evo watch is Italian made with a leather strap, scratch resistant sapphire crystal, a transparent case back and is water resistant up to 50 meters.
This watch plus the Gunner Driver Shoes are a perfect gift combo. (Wink, Wink)
Over the Top
Ultimate Exotic Car Racing In Las Vegas

Whether this gift if for a car lover or not it is pretty awesome, but for the car lover in your life it will be something they never forget. People dream of driving cars like the ones they have here and will thoroughly enjoy every second of it. Plus they get to go to Las Vegas right?
They will get to drive multiple super cars with a professional instructor hitting speeds well over 100 miles per hour at the Las Vegas Speedway and they even get a Racing Completion Certificate.
Engine Block Coffee Table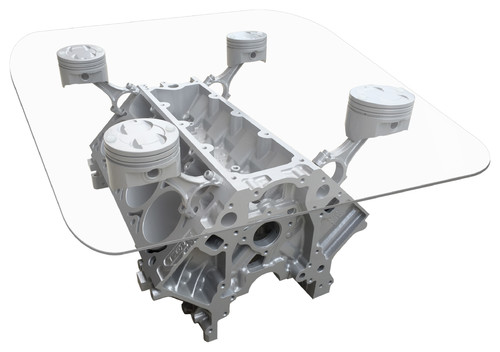 This table is incredible! Can you imagine the look on that "car loving" someone in your life when they walk in the room and see this? It is a perfect gift for a man cave, sports room or even a normal living room because it has some style to it even though it is an engine block.
It is a bit expensive, but completely worth it for someone who loves cars enough to decorate an entire room with car stuff.
Wilwood or Brembo Brakes
If you really want to go above and beyond this holiday season then head out and purchase a set of Wilwood or Brembo brakes for the car lover in your life. They are expensive, but if they actually race their cars this will be a great gift and they will love you forever. Be prepared for a separate installation cost that will be around $2,000.